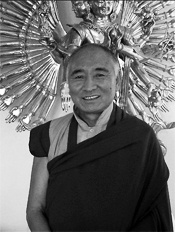 Khenpo Tsewang Dongyal Rinpoche
Khenpo Tsewang Dongyal Rinpoche, along with Khenchen Palden Sherab Rinpoche, is a founder and director of Padmasambhava Buddhist Center based at Padma Samye Ling in upstate New York. PBC is a worldwide Buddhist meditation and study network that includes local centers as well as retreat centers and monastic institutions.
Books & Audio
Hardcover


About the Author
Venerable Khenpo Tsewang Dongyal Rinpoche was born in the Doshul region of Kham in eastern Tibet, on June 10, 1950. On that summer day in the family tent, Khenpo Rinpoche's birth caused his mother Pema Lhadze no pain. The next day, upon moving the bed where she delivered the baby, his mother found growing a beautiful and fragrant flower, which she plucked and offered to Chenrezig on the family altar.
Soon after Khenpo Tsewang was born, three head lamas from Jadchag Monastery came to his home and recognized him as the reincarnation of Khenpo Sherab Khyentse, who had been the former head abbot at Gochen Monastery. Sherab Khyentse was a renowned scholar and practitioner who spent much of his life in retreat.
Khenpo Rinpoche began his formal schooling at age five, when he entered Gochen Monastery. However, his first Dharma teacher was his father, Lama Chimed Namgyal Rinpoche. The Chinese invasion of Tibet interrupted his studies, and he escaped to India with his family in 1959. There his father and brother continued his education until he entered the Nyingmapa Monastic School of northern India, where he studied until 1967. Khenpo Rinpoche then entered the Central Institute of Higher Tibetan Studies, which at the time was part of Sanskrit University in Varanasi, where he received his BA degree in 1975. He also attended Nyingmapa University in West Bengal, where he received another BA and an MA in 1977.
In 1978, His Holiness Dudjom Rinpoche enthroned Venerable Khenpo Tsewang Dongyal Rinpoche as the abbot of the Wish-fulfilling Nyingmapa Institute in Boudanath, Nepal, where he taught poetry, grammar, and philosophy. Then, in 1981, His Holiness appointed Khenpo Rinpoche as the abbot of the Dorje Nyingpo center in Paris, France. Finally, in 1982, he asked Khenpo Tsewang to work with him at the Yeshe Nyingpo center in New York. From that time until His Holiness Dudjom Rinpoche's mahaparinirvana in 1987, Khenpo Rinpoche continued to work closely with him, often traveling with His Holiness as his translator and attendant.
In 1988, Khenpo Tsewang Dongyal Rinpoche and his brother, Venerable Khenchen Palden Sherab Rinpoche, founded the Padmasambhava Buddhist Center. Since that time, he has served as a spiritual director at the various Padmasambhava Buddhist centers throughout the world. He maintains an active traveling and teaching schedule.
Khenpo Rinpoche is the author of Light of Fearless Indestructible Wisdom: The Life and Legacy of His Holiness Dudjom Rinpoche, published in both Tibetan and English. He has also authored a book of poetry on the life of Guru Rinpoche entitled Praise to the Lotus Born: A Verse Garland of Waves of Devotion, and a unique two-volume cultural and religious history of Tibet entitled Six Sublime Pillars of the Nyingma School, which details the historical bases of the Dharma in Tibet from the sixth to ninth centuries. At present, Six Sublime Pillars is one of the only books to convey the Dharma activities of this period in such depth, and His Holiness Dudjom Rinpoche encouraged Khenpo Tsewang to complete it, describing the work as an important contribution to the history of the kama lineage.
Along with these, Khenpo Tsewang Dongyal Rinpoche has co-authored over twenty Dharma books in English with Venerable Khenchen Palden Sherab Rinpoche.
Videos & More
Guru Yoga Teachings by Venerable Khenpo Tsewang Dongyal Rinpoche from Padmasambhava Buddhist Center on Vimeo.
Guru Yoga Teachings by Venerable Khenpo Tsewang Dongyal Rinpoche
according to his book, Praise to the Lotus Born: A Verse Garland of Waves of Devotion,
which recounts and honors the life and legacy of Guru Padmasambhava.

Filmed on the auspicious day of October 17, 2010, Guru Rinpoche Day,
at the PBC Palm Beach Dharma Center in West Palm Beach, Florida.

Live streamed to PBC members and friends throughout the world,
including the Venerable Khenpo Rinpoches' monks and nuns at Orgyen Samye Chökhor Ling nunnery
in the holy city of Sarnath, India.