Bringing the Dharma to Montreal
The following article is from the Winter, 1990 issue of the Snow Lion Newsletter and is for historical reference only. You can see this in context of the original newsletter here.
Ven. Geshe Khenrab Gajam wished to support the spread of dharma and helped start the Gaden Shedrup Ling Tibetan Buddhist Monastery and Retreat Centre in Montreal, Canada.
Born in 1928 in Tibet's eastern province of Kham, Ven. Geshe Khenrab Gajam journeyed to Lhasa at the age of fourteen and began an intensive course of studies at Jangtse College of Gaden Monastery. His educational program was temporarily interrupted by the invasion of the Chinese People's Liberation Army, for in 1959 news of His Holiness the Dalai Lama's flight to India and word of disturbances in Lhasa prompted him to leave Gaden together with several other monks for safer ground in northern India.
Shuttled from Assam to Dalhousie and finally to the Tibetan refugee camp at Buxa, he resumed his studies under many renowned teachers including H.H. Kyabje Yongdzin Trijang Dorje Chang, H.H. Kyabje Zong Rinpoche, H.H. Kyabje Yongdzin Ling Dorje Chang, as well as his Root Guru, Khenpo Yoga Rinpoche. He received his degree of Geshe Lharampa in 1967, becoming Dzula Lopon (main philosophy teacher) for the large monastic complex at Buxa. Ven. Geshe Khenrab Gajam used his time at Buxa to continue many profound tantric studies with his masters, which he had been undertaking since the age of seventeen, and to complete numerous retreats.
In 1972, after two years in Mundgod, where Gaden Monastery had subsequently been relocated, Geshe-la was asked by Tibetan Government officials to move to Canada to look after the needs of Tibetan refugees in Quebec. Ven. Geshe Khenrab Gajam founded the Atisha Dharma Centre in 1976 on Montreal's south shore, and soon found that not only Tibetans in exile, but also many Montrealers were beating a path to his doorstep for spiritual instruction.
---
There are... fortunate people who have connections with Dharma from previous lives. They have merits and virtues and are in need of facilities of a monastery in order to develop their fullest potential.
---
The centre was incorporated as the Temple Bouddhiste Tibetain (Tibetan Buddhist Temple) in 1980 and soon outgrew its limited space and facilities, forcing Tibetan Buddhist Temple Gaden Chang Chub Chöling move to downtown Montreal in 1986.
Buddhist studies in Montreal
Geshe-la has continued to teach a regular program of Buddhist studies in Montreal on Tuesday evenings (Lam Rim, using Kyabje Pabongkha Rinpoche's text) and Thursday evening (various texts on Madhyamika and Prajnaparamita), and gives lectures on diverse topics (translated into French) on Monday evenings. In addition, he leads regular monthly Mahayana Sojongs and frequent tantric retreats. The Temple has sponsored visits of many great teachers, including H.H. the Dalai Lama, H.H. Jampel Shenpen (the Gaden Tripa), H.H. Kyabje Zong Rinpoche, H.H. Kyabje Ser-kong Dorje Chang, Lati Rinpoche, and the monks of Drepung Monastic University and Gyuto and Gyumed Tantric Universities, as well as many others.
Feeling that the activities of the Temple alone could not sustain continued growth of the Dharma in Quebec and accommodate the needs of all practioners, Ven. Geshe Khenrab Gajam issued the following appeal:
Vasubhandu said, Buddhadharma is of two types: one is the practice of Buddha's teachings; the other is the listening, thinking and understanding of those teachings. That is the Dharma. For those teachings to endure, it is important to have a community of monks, nuns and lay-practitioners. The welfare and happiness of all sentient beings depend upon Buddhadharma and the spiritual community.

Therefore, because I want this to survive a long time, it is for this reason that I wish to create a monastery. I have met with many monks and nuns here in North America who have no place to develop and they have become discouraged. I want them to live and practice the Dharma as Sangha, so they will produce good seeds and an environment that will allow other people to find that Dharma through them.

This country has much material wealth and also it is rich in various kinds of knowledge but there is not much opportunity to study the Dharma and develop peaceful minds. There are, however, fortunate people who have connections with Dharma from previous lives. They have merits and virtues and are in need of facilities of a monastery in order to develop their fullest potential. There are old people who are in need of a peaceful place where they can retire to use their remaining years in purposeful activities. And there are dedicated lay-people who also would benefit from such an environment. So for these people I have in my mind the wish to create a monastery not far from Montreal named dGe.lDan.bShad.sGrub.Gling (Geden Shedrup Ling). Whoever cares or has compassion toward the Dharma, from those persons we request their assistance, financially and otherwise.
Since that request for help at the end of September 1990, the fledgling monastery project received the very generous and entirely unexpected donation of 39 acres of land, located about 45 minutes' drive north of Montreal. Our new neighbours in the St. Jerome-Lachute area are apparently quite receptive to the project, which will include a main teaching and meditation hall, residences for the Sangha, and retreat cabins, as well as facilities for lay people and other visitors. Geshe-la planned to divide his time between the monastery and the Temple in Montreal in the initial stages, gradually spending more and more time at the monastery in his advancing years.
A call to all interested persons to offer whatever help they could was made to make this project a reality. After attaining the land, funds were then needed to construct the gompa and other buildings. People offered their services in architectural, professional or skilled trade capacities, as well as donations for building materials, plumbing, electrical and other supplies.
Thank you to everyone who contributed.
Current Tibetan Buddhist Center near Montreal:
Tsongkhapa Meditation Center
Tibetan Buddhist Temple
1551 Côte Saint-André
Sainte-Sophie, Quebec, Canada  J5J 2S6
450-504-2955
meditationtsongkhapa@gmail.com
"Located in a peaceful forest in the beautiful region of the Laurentians, 45 min north of Montreal, the Tsongkhapa Meditation Center (CMT) is dedicated to the transmission of the Mahayana Buddhist tradition instituted by the Lama Tsongkhapa."
To make donations, please click here.
Tsongkhapa (1357–1419), founder of the Gelug school of Tibetan Buddhism, was one of Tibet's greatest philosophers and a prolific writer. His most famous work, The Great Treatise on the Stages of the Path, is a classic of Tibetan Buddhism.
For more information: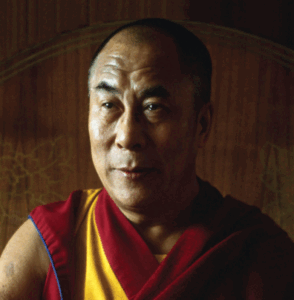 His Holiness the Fourteenth Dalai Lama is considered the foremost Buddhist leader of our time. The exiled spiritual head of the Tibetan people, he is a Nobel Peace Laureate, a Congressional Gold Medal recipient, and a remarkable teacher and scholar who has authored over one hundred books.