This article is the first in a series of posts on the Great Masters of Tibetan Buddhism.   This series will focus on the lives, teachings, and legacies of various teachers across traditions. While we will mention other important books in English, the focus will be works published by Shambhala Publications (and our Snow Lion imprint). These are not intended to be exhaustive biographies, but rather to serve as maps for readers who want to deepen their understanding of these important figures and their contributions. Our main aim with this series-and really for publishing the books mentioned below-is to support you in your practice and to inspire you.
We will start with the great Rimé master Mipham Rinpoche (sometimes written Mipam), who reinvigorated the Nyingma tradition in the late nineteenth and early twentieth centuries.
Mipham Rinpoche's Life
Relative to his impact, and somewhat surprising given that he passed away only one hundred years ago, the details of Mipham Rinpoche's life are not that well known.   But what we do know is covered in a great overview in Jamgon Mipam: His Life and Teachings. This is a comprehensive look at Mipham Rinpoche's life and the themes of his writing.   It also includes over two dozen translations of shorter prayers and texts.   While it considers some difficult philosophical points, it is a very accessible entry point to the world of this immensely important master.   Mipham Rinpoche's life is also briefly covered in The Nyingma School of Tibetan Buddhism and A Marvelous Garland of Gems.
Mipham Rinpoche's main teachers were Patrul Rinpoche, Jamgon Kongtrul Lodro Thaye, and Jamyang Khyentse Wangpo.   But being the polymath and nonsectarian he was, he also studied logic and important works by Sakya Pandita with the great nineteenth-century Sakya master Loter Wangpo and the Madhyamakavatara with the Gelug master Bumsar Geshe Ngawang, among many teachers from the four main schools.
As the Padmakara Translation Group wrote in Introduction to the Middle Way,
One has only to read Mipham Rinpoche's writings to see that the spirit of faction is completely foreign to him. He is wholly free from a desire to vilify the positions of other schools, still less to criticize their spiritual endeavors. His remarks are never personal and his tone, though firm and occasionally ironic, is never vituperative. This impartial search for the truth did not fail to elicit a warm response in sincere and sensitive minds, as is well illustrated by the famous debate between Mipham and the Gelugpa scholar Lozang Rabsel, following the composition of the Norbu Ketaka, Mipham's commentary on the ninth chapter of the Bodhicharyavatara. The exchange was marked by mutual respect and good humor. Kunzang Pelden records that by the end of the exchange, the minds of the two scholars had mingled perfectly and they complimented each other with expressions of mutual admiration.  It is not surprising that Mipham came to be universally respected in all the great monasteries of Eastern Tibet and attracted disciples from all four schools.
The breadth and depth of his scholarship might make one think that he spent all his time in study and writing, but the fact is that Mipham Rinpoche spent much of his life in retreat.  This gave him the deepest of roots in the direct experience that was the basis for his scholarship.   Thus, all his works-whether his systematization of texts and compilation of sadhanas and devotional works, his articulations of emptiness and other complex topics of the Buddhist view of reality, his commentaries, prayers, or other works, such as the propagation of the practices related to King Gesar-come from someone who traversed the entire path and was writing from experience.   His written legacy is contained in over thirty volumes (which translates to a lot more books if printed in the Western style), and while the list of books mentioned in this article might make it seem  that   much of his work exists in English, there is in fact a long, long way to go.   He was also a terton, or treasure revealer.
His Works
While very much nonsectarian in outlook, Mipham Rinpoche was very focused on the Nyingma presentation of teachings specifically and, as heir to the approaches of Rangzom Mahapandita,  Longchenpa, and his teacher Patrul Rinpoche (left), Mipham Rinpoche went back to the source Indian texts, and his commentaries helped to really invigorate the Nyingma presentation of these core texts.   These commentaries are still a central part of study in many monastic and lay centers.
A quick note: the categorization of his work below is very loose as Mipham Rinpoche's works more often than not spanned many topics and traditions.
His Gateway to Knowledge (four slim English volumes published by Rangjung Yeshe) is an overview of the Tripitaka, covering Hinayana and Mahayana, as well as a great study tool for those learning Tibetan as it contains Tibetan with English translation.
Maitreya Texts
Mipham Rinpoche wrote several very important and influential commentaries and works on the five Maitreya texts.   These have had many different interpretations over time from different quarters but for Mipham Rinpoche, the five Maitreya works comment on the entire teachings of the Buddha, with each one relating to different sets of teachings.
Mipham Rinpoche's work on the Ornament of Clear Realization or the Abhisamayalamkara discussed in Groundless Paths: The Prajnaparamita Sutras, The Ornament of Clear Realization, and Its Commentaries in the Tibetan Nyingma Tradition is focused on the middle turning of the wheel of dharma, i.e., prajnaparamita.
His commentary on the Uttaratantra (to be published next year by Shambhala), really compiled by his students based on his oral teachings, illumines the intention of the final turning of the wheel on Buddha nature.
The above two texts share the view that there is but one vehicle with the intention as expressed in Madhyamaka.
The Ornament of the Sutras or Mahayanasutralankara (to be published next year by Shambhala) he more generally associates with the Mind Only sutras but in a way that is compatible with Madhyamaka.
The two remaining Maitreya works, the so-called "Two Treatises that Distinguish, " are often categorized by scholars as Mind Only texts, and while they do give extensive explanations on the three natures and how external objects do not exist, Mipham Rinpoche says that the ultimate intention of these two are to present the fundamental view of Mahayana via the union of Mind Only and Madhyamaka.
The first one is Middle beyond Extremes: Maitreya's Madhyantavibhaga with Commentaries by Khenpo Shenga and Ju Mipham.
For his commentary on the Dharmadharmatavibhaga, there are two versions:
Maitreya's Distinguishing Phenomena and Pure Being includes the Tibetan on facing pages and Distinguishing Phenomena from Their Intrinsic Nature includes Khenpo Shenga's annotations as well.
More Madhyamaka
Mipham Rinpoche's commentaries on Chandrakirti's Introduction to the Middle Way and Shantarakshita's Ornament of the Middle Way (for which there are two excellent translations: here and here) form two very influential commentaries on and very clear explanations of Madhyamaka.   In both these works, he takes on the long-standing debate between the views of Svatantrika and Prasangika, which agree on the ultimate nature of reality but differ in their approach in describing conventional reality.   In the latter work, he presents the text of Shantarakshita, whom he puts on par with Nagarjuna and Aryadeva, and brings together the Madhyamaka and Mind Only schools, as well as synthesizing the Prasangika and Svatantrika approaches.
The Ketaka Jewel is Mipham Rinpoche's commentary on Wisdom chapter of The Way of the Bodhisattva, published in 2017 as The Wisdom Chapter.  This work, translated by the same people who did Introduction to the Middle Way, also has a superb introduction, really grounding the reader in the trajectory of Madhyamaka thought through India and its trajectory in Tibet.
Straight from the Heart: Buddhist Pith Instructions includes Mipham Rinpoche's commentary on the Gelugpa master Janggya Rolpe Dorje's A Song on the View.  The introduction to the commentary states:
Identifying himself as someone whose own innermost view is Great Madhyamaka, Mipham Rinpoche explicitly praises the views of both Janggya Rolpe Dorje and Tsongkhapa, quoting the latter as a support for his own understanding of Rolpe Dorje's song a number of times. He addresses the issue of how some later Gelugpas seem to not have grasped Tsongkhapa's true intent of the inseparability of emptiness and dependently originating appearances. He also speaks against sectarian bias and defends Dzogchen against criticism, showing it to accord with Tsongkhapa's own final realization of appearance and emptiness in union.
Tantra
Mipham Rinpoche's work on Tantra is also very extensive. His main work in English is his commentary on the Guhyagarbha Tantra, which is the essence of the eighteen Mahayoga tantras.   There are two translations of this: The Essence of Clear Light , which includes the Tibetan, and Luminous Essence.   For this text, it is really important that they be read by those who have received the initiation and have permission and guidance from a qualified teacher specifically for this text.   By all accounts, there is no point to read these without having completed the proper preparation.
In White Lotus: An Explanation of the Seven-Line Prayer to Guru Padmasambhava, he gives a detailed explanation of this foundational prayer, explaining to us how to understand it according to its many layers of meaning.
Two other works include wonderful pieces by Mipham Rinpoche that we should mention. As mentioned above, he really reinvigorated the Nyingma tradition during a time when there were many critics who did not properly understand it. The Ri-me Philosophy of Jamgon Kongtrul the Great: A Study of the Buddhist Lineages of Tibet includes a scathing eight-page rebuttal of critics of the Nyingma tantras.
A short but extremely moving prayer by Mipham Rinpoche in praise to Yeshe Tsogyal called The Longing Melody on Faith  is included in Thinley Norbu Rinpoche's masterpiece on ngondro, or the preliminary practices, A Cascading Waterfall of Nectar.
Mipham Rinpoche also wrote a short text on the Treasure tradition entitled The Gem that Clears the Waters: An Investigation of Treasure Revealers, in which he presents a funny, honest look at the terma tradition.   This is included in Tibetan Treasure Literature.
Dzogchen
Mipham Rinpoche's Beacon of Certainty, a very important text used by Nyingma monastic colleges, includes an in-depth treatment of Madhyamaka, tantra, and Dzogchen.
Fundamental Mind , which also includes a sixteen-page biography of Mipham Rinpoche by Khetsun Sangpo Rinpoche, consists of the first volume of his trilogy called the Three Cycles of Fundamental Mind,  a Nyingma text on ultimate reality that emphasizes   the introduction of fundamental mind through a lama's instructions.
There are also a few selections contained in other books, including In Praise of Dharmadhatu by Nagarjuna with commentary by the Third Karmapa, Rangjung Dorje. This book contains a few selections by Mipham Rinpoche.   In the first, from his Exposition of the Madhyamakalamkara, he emphasizes the critical importance of directly connecting with the experience of Dzogchen by first gaining certainty in primordial purity-otherwise one ends up with a view that will get one nowhere.
In Straight from the Heart there is a short teaching which is a pith instruction on Mahamudra
In Dream Yoga and the Practice of Natural Light, Chapter 10 consists of a short Dzogchen text by Mipham Rinpoche on the nature of mind entitled The Quintessential Instructions of Mind: The Buddha No Farther Than One's Palm.
Other Works in English  
Astrology
In Mo: The Tibetan Divination System, Mipham Rinpoche gives an explanation of this divination system based on Manjushri.
Gesar
While The Epic of Gesar of Ling was not composed by Mipham Rinpoche, it was edited under his direction.   For the full history, you can read the chapter "The Influence of the Epic of King Gesar of Ling on Chogyam Trungpa " in Recalling Chogyam Trungpa.
Ethics
In a remarkable work in the form of a  letter to the king of Derge, published as The Just King, Mipham provides a map for both enthical governance, but more fundamentally, how to live a meaningful, successful life.  This is still studied today, notably by thousands at Larung Gar in eastern Tibet.
Other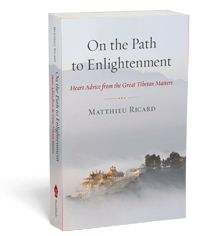 There are many other books where Mipham Rinpoche's work and influence is discussed.
Tibetan Literature: Studies in Genre refers to his contributions to the Gesar epic, his book on how to prepare colors, ink, and gold for thangka painting, as well as his vast contributions to philosophical literature.
The recently released anthology by Matthieu Richard, On the Path to Enlightenment, has four short pieces by Mipham Rinpoche.
The Buddhist Psychology of Awakening (to be published in 2014 by Shambhala) also contains an evaluation of his contribution to the understanding of Abhidharma.
Mipham Rinpoche Today
In his remarkable book Incarnation, Tulku Thondop Rinpoche says:
This great scholar and adept said, at the time of his passing, "After this life, I will never take rebirth in this mundane world. I will remain only in pure lands. However, because of the power of aspirations, it is natural that the display of my tulkus as the Noble Ones will appear as long as samsara remains. " When people urged him to live longer, he said, "I certainly will not live. I will not take rebirth either. I am going to Shambhala in the North. "
But his legacy is very much with us today, directly through his teachings and the many masters who continue to pass them on in the East and West.
In Brilliant Moon, Dilgo Khyentse Rinpoche, who was one of the most influential teachers of our generation, talks about Mipham Rinpoche throughout, with over 170 references to him.
It is no surprise that Mipham Rinpoche's teachings continue to appear in the written and oral teachings of many contemporary teachers.   As one example in many, Khenpo Garwang's recently released Your Mind Is Your Teacher is a detailed instruction on contemplative or analytical meditation based on Mipham Rinpoche's Wheel of Analytical Meditation.
There are many other great resources on Mipham Rinpoche online, including translations of some shorter works by Lotsawa House and a bio from the wonderful Treasury of Lives site.
We look forward to seeing more and more of Mipham Rinpoche's material to be published in English in the coming years.