Azom Chotrul Paylo Rinpoche
The following article is from the Spring, 1998 issue of the Snow Lion Newsletter and is for historical reference only. You can see this in context of the original newsletter here.
Azom Chotrul Paylo Rinpoche
and
The Legacy of Chimphu
By Anne Klein
Yarlung Valley, Tibet
In eighth-century Tibet, Buddhism was dawning in the fertile Yarlung Valley, home to Tibet's earliest kings. Teachings whose time was not yet ripe, tradition tells us, were being hidden by the dakini Yeshe Tsogyal. Many of these were instructions she received from Padmasambhava when they did retreat in places to the east, like Terdrom, and above all in the caves of Chimpu above Samyé, where the first monastery of Tibet had just been built.
Many wonderful images can be seen in the rocks there; the sculpted forms of Buddhas and yogis are said to have emerged spontaneously through blessings brought by the great practitioners who came here.
Chimphu is formed around a high narrow valley, crested on three sides by rock formations studded with caves. Since the earliest days of Buddhism in Tibet, if not before, these caves have sheltered meditators in retreat. Many wonderful images can be seen in the rocks there; the sculpted forms of Buddhas and yogis are said to have emerged spontaneously through blessings brought by the great practitioners who came here.
The Dakini Heart Essence Teachings
Among other significant events that, according to Nyingma traditions, took place at Chimphu was the sudden death of the King Trisong Deytsen's eight-year-old daughter, Lhacham Pemasel (also known as Princess Pema Sal). As her mother swoons in the arms of Yeshe Tsogyal, Padmasambhava briefly revives the young girl and inscribes on her heart a vermilion letter HRI, telling her stricken parents that because of this she will, many lifetimes from now, come to discover Padmasambhava's own heart essence teachings in a transmission that will become known as the Dakini Heart Essence teachings.
Yeshe Tsogyal is instructed to hide these teachings away so that the Princess' future incarnation will be able to discover them. Until they are discovered, it will be another lineage, the Vimalamitra Heart Essence, which will flourish.
In the 13th century Pema Ledrel Tsel reveals two volumes known as The Dakini Heart Essence, Khadro Nying Tig (Khandro Nyingtig), which include the tale of how this transmission was initially bestowed on the heart of the young princess, his former incarnation.
This transmission is also held by the third Karmapa, Rangjung Dorje, and eventually by the great 14th century adept Longchenpa Rabjam who unifies this transmission with the earlier Heart Essence of Vimalamitra.
When Longchenpa visited Chimphu he declared,
I would rather die here than be born somewhere else.
And after doing retreat and giving teachings, he did die at Chimphu in 1363. One can still visit his stupa there.
the dakinis hold this teaching as dear as a drop (essence) of blood in their own heart.
In the 18th century, Jigme Lingpa, also recognized as a reincarnation of the young princess, did a three-year retreat at Chimpu. He spends some of this period in the sleeping cave of Yeshe Tsogyal, travels by vision to the great stupa of Boudha, where with the support of many dakinis he receives through visionary encounter with Longchenpa the lineage now known as The Heart Essence of the Vast Expanse, Longchen Nying Thig. It gets its name, Khetsun Sangpo Rinpoche once said,
because the dakinis hold this teaching as dear as a drop (essence) of blood in their own heart.
The Beginning of my Practice
I began practice in this lineage under Khetsun Sangpo Rinpoche in 1974. As I was led, over the next two and half decades, through the stream of practices in this transmission, I began to plan a pilgrimage to Tibet that would center on places sacred to Yeshe Tsogyal, Padmasambhava, and this lineage.
A few months before the pilgrimage began in May of 1996, I woke up from a strong dream of Longchenpa Rabjam and Jigme Lingpa, the first time I had ever dreamt of them. Perhaps it was not too surprising. In conversation with my friend Phyllis Pay, I had been dreaming the trip deeply for nearly a year, exploring various locations that we might visit.
Our trip began in Lhasa, and our first camping excursion was planned for Chimphu, which we approached by way of Samye. On the truck that took us from Samye to Chimphu were a number of nuns from Shugseb, where Khetsun Sangpo Rinpoche had received transmission of the Heart Essence of the Great Expanse from the great female yogini, Ani Lochen.
One young nun was wearing a button with a Lama's face on it. I asked her about it.
This is a great Lama who is now visiting and giving teachings at Chimphu. We have all come to hear him.
She assured me that we could meet him, and gave directions how to find him.
We pitched our tents on a green carpet of grass by a rushing stream–its waters probably mingling with a spring higher up the mountain said to have emerged during Guru Rinpoche's first teachings there. It rained during the night, leaving a film of radiant snow on the high cliffs above us.
After breakfast, we hiked up the rise behind our meadow. Azom Rinpoche was staying in a small monastery about five hundred feet above where we had camped at Chimphu, and perhaps 800 feet below the sleeping cave of Yeshe Tsogyal.
He was teaching the higher practices contained in the Heart Essence of the Vast Expanse to 250 Tibetans who were practicing in upper Chimphu. These monks and nuns came down every other day for teachings, walking contentedly in twos and threes, chanting a beautifully haunting song, a call to the Lama, that floated through the clear air between the high cliffs before wafting down the valley.
On alternate days newer students, staying in tents on the elevated flat areas near the monastery, received teachings on the foundational practices of the lineage. We eleven were the only non-Tibetans in the area.
We entered his room, eyes dilating after the brilliant light outside. He was attended by two monks and sat energetically at the foot of his wooden bed as he received our offering scarves. We bowed down and introduced ourselves. After mentioning the various connections each of us had with practice, I asked whether we might receive instructions on the mind-nature from him.
These are especially precious teachings, usually given to relatively practiced students and potentially precipitating a significant turning point in understanding. His response was immediate:
"Shall I speak to the whole group at once or to each of you individually?"

"One by one please," we asked.

"Yes, that's best," he said, "because everyone is different. How could I say the same thing to all of you?"
And so we began. My friend Michele Martin and I translated. This meant that, in addition to receiving our own teachings, we were able to see him work with the other women.
He usually began by asking a question, and would respond to the answers in ways that led each person gently and quite directly, by a route unique to her situation, to the essence he wished to impart. He often closed by giving instructions on a simple meditation practice that he felt addressed the person's situation and invited her to return next day for further instructions.
our encounter at Chimphu promises now to flower into a wonderful opportunity to support his vital activities in Tibet and to allow Western practitioners to make a connection with him and the ancient transmissions he holds.
Azom Rinpoche's Previous Incarnations
Before the individual sessions began, however, and in response to our own introductions, Azom Rinpoche had also been introduced. His attendants took it upon themselves to read to us from an ornately phrased English biography which stated that three days after his birth Azom Rinpoche began to speak in so loving a manner that people were left in joy and astonishment, and at the age of one year he was recognized by the Abbot of Azom Monastery as an incarnation of Gyalsey Pema Wangyal, son of the previous Azom Rinpoche.
The attendant then proceeded to read a short list of the other various personages incarnated in him. One is Trisong Daytsen, father of the young Princess who died at Chimphu. Another, the monk continued, was none other than Jigmay Lingpa.
Azom Rinpoche began his studies at the age of five. Clearly an extraordinary prodigy, he undertook full time retreat at eleven, began teaching at thirteen, and now at age of twenty-six has 10,000 Tibetan and Chinese followers.
He is widely renowned for having left hand prints in rock in Kham, and has been photographed before a wooden staff he inserted into rock after a powerful ceremony.
Restoring Tibet's Retreat Centers
He came to central Tibet in order to restore important retreat centers destroyed during the Cultural Revolution.
In particular, he has commenced the rebuilding of Zha Lhakang on the border or Kham and Central Tibet. This was originally built only 35 years after Samye, Tibet's first monastery, and was famously rebuilt by Longchen Rabjam in the fourteenth century. In 1997, Azom Rinpoche commenced rebuilding Zha Lhakang on the anniversary of Longchen Rabjam's reconstruction. This place is considered very important because it is said to act as a barrier, protecting the Dharma of Tibet.
In addition to this work, Azom Rinpoche supports several thousand monks and nuns. He asked me to help him raise money for these worthy projects, and after much thought it seemed best to invite him to this country so that people here could benefit from his powerful teachings, and also so that he could gather funds for his important work.
As a result of our fortuitous meeting, Dawn Mountain Tibetan Temple in Houston organized the first U.S. visit of Azom Rinpoche.
Certainly, our encounter at Chimphu promises now to flower into a wonderful opportunity to support his vital activities in Tibet and to allow Western practitioners to make a connection with him and the ancient transmissions he holds.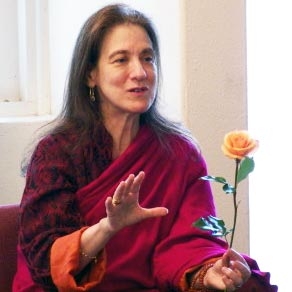 Khetsun Sangpo (1921–2009) was born in central Tibet and worked in a monastery as a servant when he was a boy, learning to read and write during his free hours. He later pursued study for several years with a renowned nun. (It was unusual for a man to seek teachings from a woman.) He eventually pursued formal monastic education in both the Gelukpa and Nyingma traditions. He fled Tibet to India in 1959. He had a close relationship with Dudjom Rinpoche, who asked him to teach in Japan for ten years as his representative. After that period, he spent the rest of his life in India and Nepal.